​Your Northern Minnesota Fishing Vacation Destination
Lake Andrusia is one of nine lakes on the Mississippi (Cass Lake) Chain of Lakes near Bemidji.
Aluminum fishing boats and motors for rent. Please reserve your boats and motors in advance.
Protected harbors for your boats
The fishing dock is a favorite perch for our guests
Nice level boat ramp
Fish cleaning house
Gas, bait, tackle and refreshments
Enter our yearly Fishing Contest and win $$ on next year's stay!
The fish are here anytime of the year!!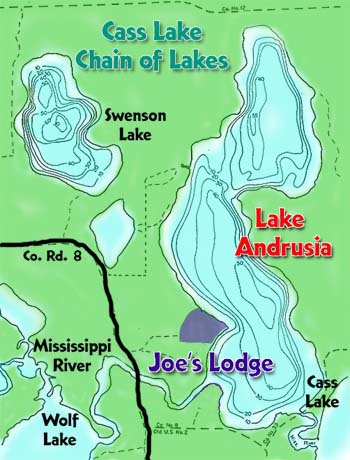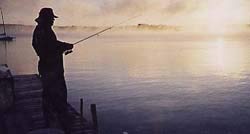 Enjoy...
...the awesome sunrises in the early mornings or the glimmering moonlight shining across the waters at night. You will appreciate the quiet and peaceful setting along the 8.5 miles of mainly undeveloped shoreline within the heart of the Chippewa National Forest.
Out on the lake...
...you will find yourself watching the eagles soaring above you and swooping down into the lake in their own display of fishing. You will not only hear the call of the loons but view their beauty. Meander down the riverway to continue your view of nature and fishing adventure into the quiet crappie and bass holes found in Anderson Lake, out into Wolf Lake or up into the great waters of Cass and beyond.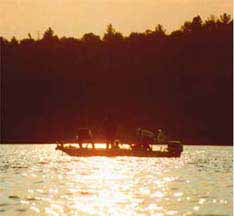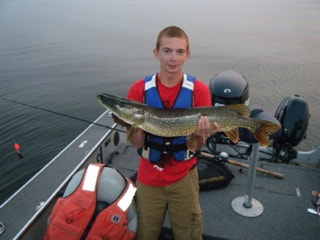 ​​Lake Andrusia – What a find! Great Fishing, swimming and water activities.
Lake Andrusia provides lucky anglers with some of the finest walleye fishing in the state. Andrusia is well known for its spring and fall walleye fishing. There are good catches of northern pike and perch, and the lake also holds bass, crappie, muskie and sunfish.
​With over 1,600 acres of clean, clear, and cool water... your fishing adventure has no limit!
Beyond Andrusia are the quiet river waters, as well as the abundant fishery found in our neighboring, navigable chain lakes of Anderson, Wolf, Cass, Kitchi, Big Rice, Little Rice, Buck, and Pike Bay. Other area lakes also offer great day trip fishing opportunities.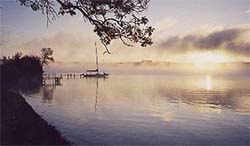 Fishing Boats & Canoes
 $15/day or $75/week
15 HP Electric Start Motors  $70/day or $350/week      
Harbor Space
(one free w/cabin rental)
20' Crestliner Pontoon W/ 90 HP Electric Start
$250/day, $150/ half day   $1,100/week
20' Pontoon with 40 HP Electric-Start
 $225/Day, $125/Half Day or $1,000/week
​Includes boat w/ live well, depth finder, trolling motor and pedestal seats
16' Alumcraft 40hp Side Console
16' Crestliner 40hp Side Console
17' Canadian Crestliner w/50hp Side Console