Northern Minnesota Family Vacations
A unique resort with a variety of accommodations.
We may be up in the northwoods, but we'll provide you with all the amenities you desire from satellite tv, air conditioning, and wireless internet. The majority of our cabins have been replaced since 2000, and the remainder have been remodeled. A cabin is a great way to stretch your family budget with housekeeping facilities and everything you need at your doorstep.
**2023 will be the last year we allow new pets in the cabins. Starting in 2024 we will no longer accept new pets, but will grandfather previous pets (for now).**
(We do not allow use of ATV, RTV, or Side by sides on site, golf carts are welcome)
Year-round Reunion Lodges for groups of 1-24, Vacation Homes, Lakeside Cabins, and Campground.
All of our facilities are equipped with your basic kitchen dishes and cookware, microwave, coffeemaker, toaster, picnic table, and grill, many with dishwashers too.
Bedding is provided, but remember to bring your own towels, soaps, and toiletries.
Each cabin has its own picnic table and fire ring. Charcoal grills are available for your use. Laundry facilities are available.
Sandy shoreline for swimming and other activities (water bongo, paddle boat, kayaks, hydrobikes and other water toys available free of charge). Check out more resort activities.
Special Vacation Packages available. View Details
NO PETS PREFFERD - NO PETS IN CABINS 1, 8, 9, 14, 15, 18, 21E/W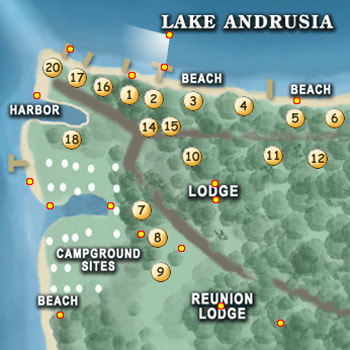 The Lodge has a game room with video games, and pool table. We sell groceries, soft drinks, ice, candy, ice cream, frozen pizzas, tackle, bait, gas, firewood, and wonderful gifts and souvenirs in our Gift Shop! Satellite TV is available in the lodge too along with videos, books, and games. Remember to enter our yearly Fishing Contest and win $$ on next year's stay!